The Reverend Dr. Ray Anthony King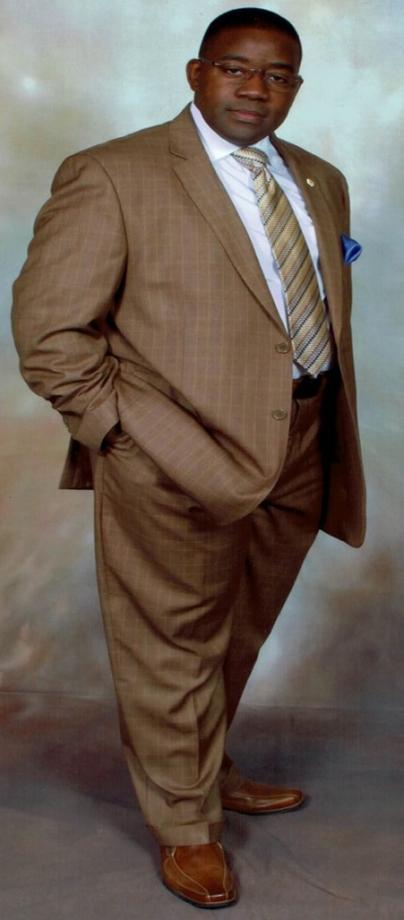 Was born on July 22
nd
at 11:42pm, to the late William Peter Rock and Geraldine Margret King, in Harris New York. Raised in Ellenville New York, he was under the daily care of his grandmother, Dorothy Irene King, who was determined that the rigors of the world, would not consume him. He has an earned Bachelor of Arts in Theology, Master of Divinity and a Doctor of Philosophy
(Concentration in Christian Counseling)
. He was also confered with multiple Honorary Distinctions.
Acknowledging his call to the Ministry in July of 1998, he was privileged to deliver his Initial Sermon on September 13, 1998, at the Shiloh Baptist Church, in Ellenville New York, under the watchful eye of the Reverend Julius A. Collins, Jr. He served there as Youth Minister until April of 2001. In May of 2001, he began a Pastoral Apprenticeship, under Bishop Willie L. Hardin, at the Riverview Baptist Church, in Kingston New York.
In February of 2004, Minister King joined the Greater Life Family Worship Church under the leadership of Bishop J.W. Fowler, Sr. and was ordained in April 2004 to serve as the Assistant Pastor. While serving under Bishop Fowler, Rev. King launched R. King Ministries Fellowship, a Ministerial Alliance for encouragement, support and spiritual direction for Christian Leaders and Ministers. It became overwhelmingly apparent that the Lord had endowed him with gifts and talents that would be used to edify the Kingdom Of God.
In April of that same year, Rev. Ray A. King was called to the Saint Paul Baptist Church of Middletown New York. Since this call to Ministry, the St. Paul Church has experienced tremendous growth; spiritually, numerically and financially. Under Dr. King's pastorate at St. Paul Church, many services to the people of God and the community has been implemented; the Interfaith Fellowship Commission, the Outreach Ministry, Miracles Over Addiction Support Group, Church on Wheels Ministry, Youth Ministry, Scholarship Ministry and Praise Dance Ministry. The Sunday School Department, Women's Ministry, Men's Ministry and Music Department were also reorganized through the efforts of Pastor King. Subsequently, a spiritual renewal has taken place and many men and woman have answered the call to preach and teach the Gospel and some to Pastor their own congregation's. Pastor King has assisted in planting four ministries in the Bronx New York, two in Newburgh New York and one in Monticello New York.
In July of 2008 the Friendship Baptist Church of Ferndale New York unanimously elected Dr. King to serve as their Administrative Pastor. His primary responsibility at Friendship was to spiritually rejuvenate a fractured congregation. Through his three year leadership at Friendship
(concurrently serving as Senior Pastor of St. Paul)
he successfully implemented a church training union which consisted of an active Sunday School Department, Mid –Week Bible Study and Quarterly Leadership Seminars. He organized and chaired the Nehemiah Project to raise funds for church renovations and to restore church pride and dignity.
In addition to pastoring the St. Paul Baptist Church of Middletown New York, Pastor King also serves as Western Cluster Leader & Assistant Corresponding Secretary of the Central Hudson Baptist Association, an alumni of St. Thomas University & Theological Seminary, a Fellow of the Eastern Theological Consortium
(Christ Theological Seminary)
and as Grand Chaplin of the Most Worshipful Rose of Sharon Grand Lodge, New York State
(International Free and Accepted Modern Masons, Inc.).
Dr. King has received multiple awards, citations and distinctions; the Robert W. Dixon "Man of Integrity" Award by Central Hudson Baptist Association
(2013)
, the key to the city of Middletown by Mayor Joseph M. DeStefano
(2012)
, Special Recognition Award by Mayor Marlinda Dunncanson
(2009)
, featured in Times Herald Record Newspaper for Christian Leadership within the Middletown Community
(2009)
, featured in The Town Crier Newspaper for Leadership at the Friendship Baptist Church during their "Darkest Days"
(2008)
, featured in Orange County New York Magazine as "Young Innovative Pastor"
(2008)
, recognized by Ellenville New York NAACP
(2007)
, awarded the "Black Achievers Award"
(1999)
and awarded the "Youth Councilman Award"
(1997)
, just to name a few.
He is happily married to his partner in life, love and ministry, Mrs. Yolanda Latisha King and they joyfully raise a blended family of seven.
When Rev. King was asked about his accomplishments, achievements and success, he humbly replied, "I'm just trying to do the best I can!"